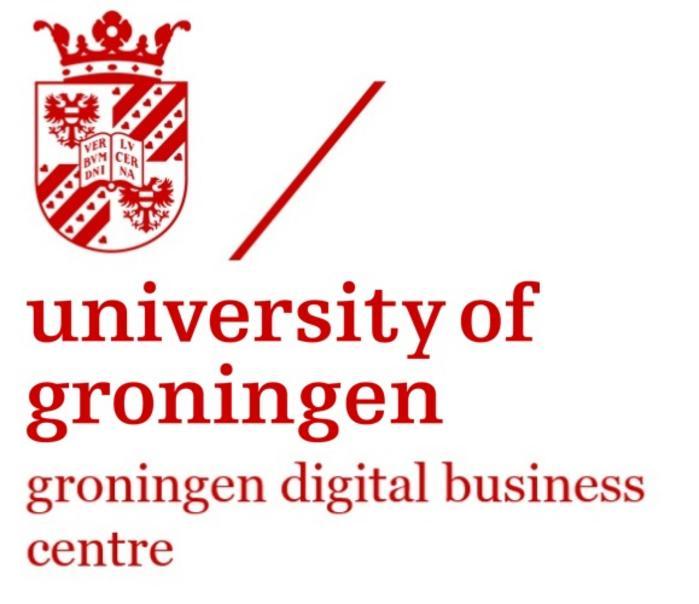 Groningen Digital Business Centre
GDBC was established for a very simple reason: Groningen is one of the most important IT cities in the Netherlands, with a variety of innovative start-ups that have grown into major companies. In addition, internet giants such as Google and IBM have recently been settling in the Northern Netherlands, generating an urgent demand for academically trained experts in the field of digital science and big data.
The Groningen Digital Business Centre responds to this demand. The Centre develops training opportunities and makes research capacity available. Students are given the opportunity to do their internships at prominent digital companies and conduct research using the great amount of data that these companies make available. In return, the digital entrepreneurs benefit from the academic knowledge available at the University of Groningen. To ensure that the teaching offered continues to dovetail with the demand from the market, we continually evaluate the GDBC curriculum based on the changes that take place in the market, using universities abroad as benchmarks.
The GDBC distinguishes itself by its unique combination of knowledge: the academic and business knowledge of the Faculty of Economics and Business, the practical knowledge and issues available within the Northern digital companies, and the analytical and engineering knowledge that the Faculty of Science & Engineering has. The GDBC is running several projects running with students of both faculties and northern companies.
More info? Contact Drs. Bas Baalmans, Managing Director, 06 22494353
b.s.baalmans@rug.nl